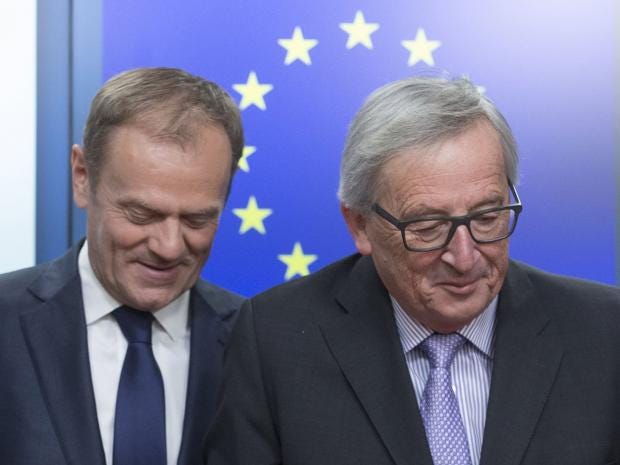 POLITICO—D. M. Herzsenhorn / EU leaders look beyond Brexit and love what they see
At the European Council summit, European leaders looked ready to capitalize on the UK's impending departure to push forward in areas, such as defense cooperation, where London had long thrown up obstacles.
Council President Donald Tusk: "This is the 80th European Council in which I have participated as prime minister or European Council president, but never before have I had such a strong belief that things are going in a better direction."
The President of the Commission, Jean-Claude Juncker, used the gathering to continue pushing the conversation about the EU's future that he jumpstarted with a well-received white paper earlier this year.
While UK Prime Minister Theresa May was allotted time to address other leaders, no time was allowed for response, as Tusk sought to block May from trying to use the Council forum to divide the remaining 27 nations.
Tusk planned for the 27 to discuss the issue of agency relocations once May had left the group. Dual-track Council meetings are required since her formal triggering of withdrawal negotiations in March.
"Some of my British friends have even asked me whether Brexit could be reversed and whether I could imagine an outcome where the UK stays part of the EU," Tusk said. "I told them that in fact the European Union was built on dreams that seemed impossible to achieve, so who knows?"
Financial Times—C. Giles & A. Barker / Hard or soft Brexit? The six scenarios for Britain
The Financial Times outlines the paths available to the UK regarding Brexit. It looks at six scenarios, ranging from a highly disruptive exit without agreement to a smoother path that sacrifices control in order to remain enmeshed in the EU's single market.
1. No deal: It is simply not a viable option. There are almost no winners and the UK would be pursued in international courts for money the EU claims it owes.
2. Divorce-only agreement: Could prove to be one of the most protectionist steps in UK peacetime history. The freedom to set the UK's rules would encourage Britain to become an offshore tax haven.
3. Limited tariff-free deal: This is quite a likely outcome, since the EU would like a free-trade deal in goods and such a deal is much easier to agree than deals on facilitating trade in services. It would make the UK a little like Canada in its dealings with the EU.
4. Far-ranging trade deal: This outcome would maintain substantial payments to Brussels and probably continued EU influence over British law, but the UK would not have a direct say in EU law and regulations.
5. Customs union: The UK would not be able to strike tariff reduction agreements in goods trade with countries such as the US and China — one of the principal rationales for Brexit. But such a deal would protect manufacturing jobs in the UK.
6. Single market: In purely economic terms, it is difficult to see advantages of this arrangement compared with membership of the EU itself, but it is the least disruptive Brexit.
Foreign Affairs—C. P. Clarke / Is ISIS leader Baghdadi still alive?
The Russian military announced a week ago that it might have killed the ISIS chief, Abu Bakr al-Baghdadi, in an airstrike in Raqqa. However, there are many reasons to be skeptical of this claim.
The academic scholarship on the effectiveness of the targeted killing of terrorist leaders is mixed. A study found that the removal of a terrorist group's midlevel commanders is far more effective in preventing future attacks than removing the leaders. Another study notes that leadership decapitations can even be counterproductive, as they can strengthen a group's resolve and create more sympathy for it.
Other scholars, however, find decapitation strikes to be an effective method of crippling an organization's capability to maintain cohesion, and deem terrorist campaigns more likely to end quickly when counterinsurgents successfully target enemy leaders. ISIS could suffer from an identity crisis without Baghdadi, especially because there is no charismatic leader ready to take his place.
The removal of Baghdadi will by no means lead ISIS to collapse overnight. The root causes of ISIS' insurgence—the civil war in Syria and Sunni disenfranchisment in Iraq—will likely remain unresolved for the foreseeable future.
The death of Baghdadi could even open the door to possible rapprochement between ISIS and al Qaeda.
Foreign Policy—P. I. Lipscy / The Trump Tower peace theory
President Trump has shattered long-standing U.S. traditions regarding transparency and conflicts of interest. His reluctance to divest from his overseas business assets creates a troubling wedge between his personal interests and the US national interests.
We face what might be dubbed a "nepotist peace": the United States will avoid any conflict that puts a Trump Tower at risk.
While the US President faces incentives to protect Trump properties from the consequences of conflict, adversaries may actually be emboldened by their perception that he will act cautiously.
U.S. allies may come to see Trump Towers as a mechanism to prevent America's potential abandonment, akin to the presence of U.S. bases and troops.
The Economist / India's prime minister is not as much of a reformer as he seems
The past 3 years appear to have reinforced the idea that Indian PM Narendra Modi is an economic reformer. Under his tenure, India's economic growth has accelerated, and the country became the fastest-growing big economy in the world.
But these appearances are deceiving. The central government's response to a host of pressing economic problems has been to pass them to the states. Furthermore, his policy of demonetization was counter-productive, and the Indian economy is starting to drag, despite the fact that the winds are blowing in Modi's favor.
Modi has been just as careful to court militant Hindus as jet-setting businessmen. Hindu nationalist thugs intimidate those who criticize the government for deviating from India's secular tradition, or who advocate a less repressive approach to protests in Kashmir, India's only state with a Muslim majority.
The fear is that, if the economy falters, Modi will try to maintain his popularity by stirring up communal tensions.
The selected pieces do not necessarily reflect the views of Javier Solana and ESADEgeo.