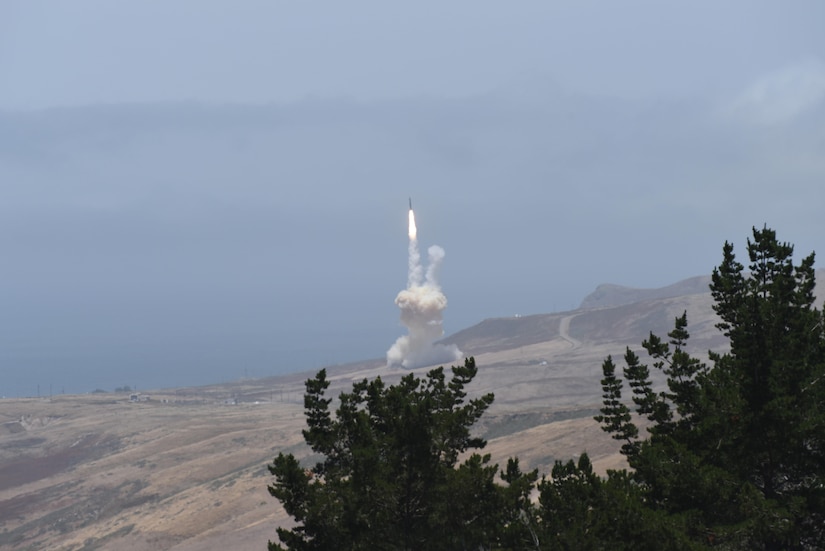 The New York Times – David E. Sanger & William J. Broad / Trump vows to reinvent missile defenses, but offers incremental plans
US President Donald Trump vowed on Thursday to reinvigorate and reinvent American missile defenses. "Our goal is simple: to ensure that we can detect and destroy any missile launched against the United States anywhere, any time, any place," Trump said.
The Pentagon's latest Missile Defense Review marks the first update to the policy since 2010, and its emphasis is on attacking enemy missiles "prior to launch," rather than depending on intercepting them in space.
The Pentagon document is aimed largely at destroying small numbers of missiles launched by regional powers, rather than overwhelming strikes from Russia or China. Trump focused most of his specific warnings on Iran — a country that does not have nuclear capability or intercontinental ballistic missiles.
In the most contentious proposal, the report embraced Ronald Reagan's Star Wars plan of putting weapons in space to shoot down enemy missiles during ascent. But the document was careful to describe the step as largely a research project — at least for now.
Al-Monitor – Laura Rozen / US assesses its Iran policy not working
The Trump administration conducted a preliminary internal assessment of its Iran "maximum pressure" policy this month and determined that it is not working, according to a new report by International Crisis Group (ICG).
"If you look at the range of ultimate objectives different people [in the administration] have in mind, from protests that pose an existential threat to the system, to change of behavior, to the Iranians coming back to the negotiating table, none of that is happening," said Ali Vaez, of the ICG.
"The administration seems to me to have come to the conclusion that it needs to basically bring others on board for this campaign of pressure to become effective. And also to stop the UN from lifting the arms embargo in 2020 … But there is no way to stop the UN Security Council from lifting the embargo unless the JCPOA is dead," added Vaez.
Some members of the Trump administration may be trying to provoke some kind of crisis between the International Atomic Energy Agency (IAEA) and Iran in order to get Iran to leave the deal, said former US Iran nuclear negotiator Richard Nephew. "Everyone [in the Trump administration] is upset that the Iranians keep being able to cite that the IAEA has said once again they are in full compliance," said Nephew.
Financial Times – Alex Barker & Jim Pickard / Could the customs union help Theresa May break Brexit deadlock?
From the fire of Westminster's Brexit crisis has emerged an alternative idea for an EU exit deal that might command majority House of Commons support: the permanent customs union.
Such an arrangement – which has been Labour's formal position since late 2017 – would ditch hopes of the UK signing comprehensive trade deals with the rest of the world after Brexit. But leaving the single market would give Westminster more independence to set its own laws than the so-called Norway model.
However, Tory MPs have warned that if Prime Minister Theresa May accepted a permanent customs union it could prompt a split of historic proportions in the party.
While a deeper customs union could reduce checks and friction between the UK and the EU, it would not of itself permit an open land border between Ireland and the north. Special arrangements tying Northern Ireland to EU standards would still be needed. This could prompt the Democratic Unionist Party to pull the plug on May.
The Economist / Is Serbia still on course to join the European Union?
Days before a visit by Russia's President Vladimir Putin, ongoing protests in Serbia showed no sign of abating. The protests started after Borko Stefanovic, leader of a small leftist party, was coshed and kicked as he arrived for a meeting in the town of Krusevac. The perpetrators, he says, were thugs connected to a local businessman close to President Aleksandar Vucic's ruling party.
Serbia is a front-runner to join the EU, whose leaders, says Stefanovic, indulge Vucic because they want the Balkans to remain stable and for him to clinch an agreement with Kosovo.
Ipsos monthly data show that 44% of Serbs think the country is heading in the right direction, whereas 33% think the opposite. If Vucic called an election, as he may, 65-75% are thought likely to vote for him or an allied party.
But Vucic's critics accuse him of being authoritarian, and the opposition may boycott an election. A new parliament full of his supporters but without the bulk of the opposition represented would tarnish Serbia's image as a rough but soon-to-be EU-ready democracy.
The selected pieces do not necessarily reflect the views of Javier Solana and ESADEgeo. The summaries above may include word-for-word excerpts from their respective pieces.