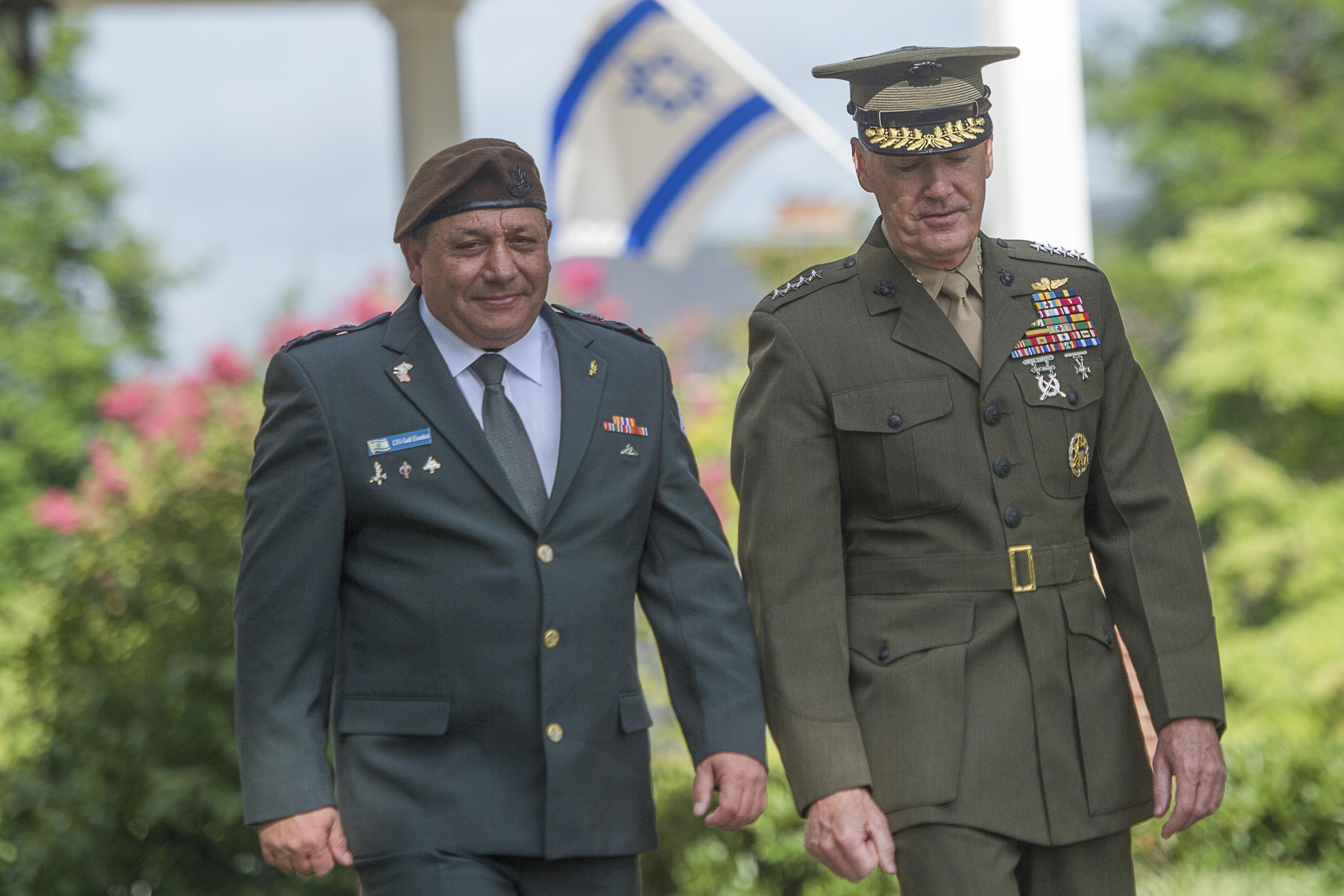 Haaretz—Amos Harel / Israeli military chief gives unprecedented interview to Saudi media: 'Ready to share intel on Iran'
For the first time, a senior Israel Defense Forces officer has been interviewed by a media organization in Saudi Arabia, which does not have diplomatic ties with Israel.
Lt. Gen. Gadi Eisenkot, the Israeli military chief, said Israel and Saudi Arabia are in complete agreement about Iran's intentions, and noted that Israel and Saudi Arabia have never fought each other.
"With President Trump. there is an opportunity to build a new international coalition in the region. We need to carry out a large and inclusive strategic plan to stop the Iranian danger. We are willing to exchange information with moderate Arab countries, including intelligence information in order to deal with Iran," added Eisenkot.
Eisenkot said Israel has no intention of initiating an attack on Hezbollah in Lebanon. "We see Iranian attempts at bringing about an escalation, but I don't see a high chance for this at the moment."
The New York Times—Brad Plumer & Nadja Popovich / 19 countries vow to phase out coal. There are some notable omissions.
At the COP23, Canada and Britain began a "Powering Past Coal Alliance" aimed at phasing out the use of coal power by 2030.
However, the countries that have joined the alliance so far account for less than 3 percent of coal use worldwide, and many were already on their way to retiring what little coal power they had left.
Coal is on retreat worldwide, but a recent report from the United Nations Environment Program warned that keeping global warming below 2 degrees Celsius would require either shutting down nearly every coal plant in the world before 2050 or outfitting the plants with technology to capture emissions and bury them.
The new anti-coal alliance has one notable omission: Germany, which still gets one quarter of its electricity from coal.
Politico—Emily Schultheis / German coalition talks head into overtime as parties miss deadline
German coalition talks will resume Friday, after the negotiating parties missed their self-imposed Thursday deadline for reaching an agreement to form a government.
The biggest sticking points remain migration and climate issues. The question of family reunification — whether refugees living in Germany can bring family members here — as well as to what extent Germany should shutter its coal plants, have been the most controversial.
"We're convinced that we can come together if we want to come together," Merkel chief of staff Peter Altmaier said.
Financial Times—David Sheppard / Norway wealth fund proposes end to oil and gas investment
Norway's trillion-dollar sovereign wealth fund has proposed dropping its investments in oil and gas stocks, warning that the country already has enough exposure to petroleum.
The Norwegian central bank, which runs the Oslo-based fund, believed dumping its oil and gas holdings would make the country's wealth "less vulnerable to a permanent drop in oil and gas prices".
Although the proposal needs to be approved by the government and parliament, shares in some of the companies most affected fell immediately, with Shell down 2.5 per cent in London, and ExxonMobil down 1.3 per cent.
The selected pieces do not necessarily reflect the views of Javier Solana and ESADEgeo. 
Related posts: