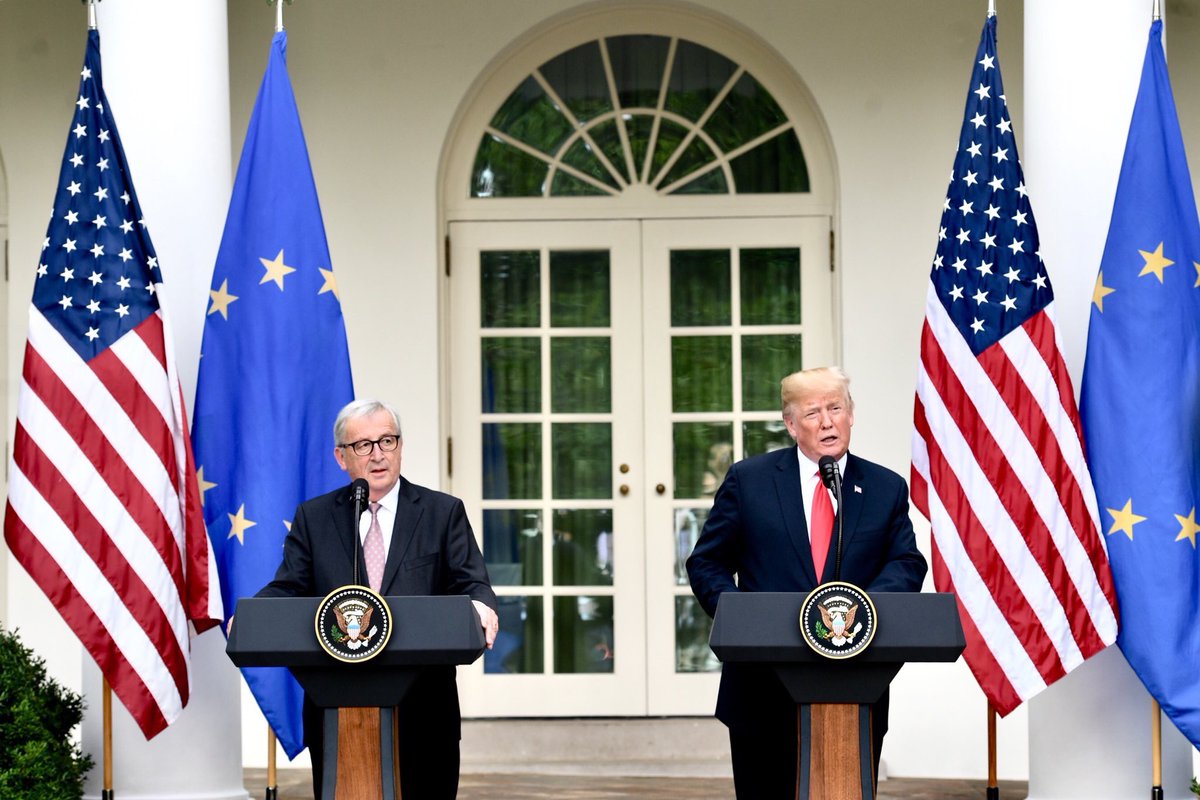 Politico – Rebecca Morin & Megan Cassella / Trump says no new tariffs against EU after parties agree to trade negotiations
US President Donald Trump announced Wednesday that his Administration will pause its plans to impose new tariffs against the EU.
In a joint statement, Trump and European Commission President Jean-Claude Juncker also announced that the two trading partners will work to eliminate tariffs on all non-auto industrial goods, increase cooperation on energy purchases and work together to reform the World Trade Organization.
In exchange for commitments from Trump to "reassess" the steel and aluminum tariffs and "hold off on further tariffs," the EU will boost its purchases of US soybeans and build more terminals to import liquified natural gas from America, Juncker said.
The big win for the EU, Juncker added, was that Trump agreed to not increase tariffs on cars so long as the EU and US are on negotiating terms. But Marietje Schaake, a liberal Dutch member of the European Parliament, noted that Juncker's failure to secure a commitment from Trump to remove the "unjust" steel and aluminum tariffs should be viewed as a failure.
Euractiv / Energy, EU reform on the agenda as Macron heads to Spain and Portugal
France's Emmanuel Macron makes his first visit as president to Spain and Portugal, starting today, in his push to overhaul the EU, with the two southern allies seeking French help to connect their energy grids to Europe.
In particular, Macron is trying to win support for a eurozone budget, which he sees as a symbolic step towards closer European integration.
Madrid and Paris are broadly aligned on how to handle the thousands of migrants crossing the Mediterranean to Europe. Both countries support the creation of "disembarkation platforms" outside the bloc to process refugee applications.
On Friday, Macron will attend an EU summit on improving the Iberian Peninsula's energy links with the rest of Europe. While lacking in oil and gas, Portugal and Spain have raced ahead with developing renewable energy sources like wind and solar power, and hope to sell their surplus electricity beyond the Pyrenees.
But officials in Macron's office speak only of increasing electricity links, whereas Madrid and Lisbon want to link up gas pipelines as well.
The New York Times – Jack Ewing / Wages are rising in Europe. But economists are puzzled.
In the decade since the financial crisis, much of the global economy has recovered and is back on stable footing. Wages in most developed countries, however, have barely budged.
Europe may offer an exception to that trend. Wages in the eurozone are rising again after years of stagnation.
When official data last month showed that hourly wages in the eurozone rose 2 percent in the first three months of 2018, the European Central Bank got the signal it was looking for. It announced it would end its main stimulus measure at the end of the year. At its meeting on Thursday, the Governing Council is expected to reaffirm that plan.
However, given that officials don't know for sure why wage growth recovered in the eurozone, they can't be sure it's sustainable. In recent years, the relationship between growth, wages and inflation has become much harder to understand.
Project Syndicate – Richard N. Haass / Summing up the Trump summits
The principal reason summits are back is that they constitute Trump's favored approach to diplomacy. Trump views diplomacy in personal terms. He is a great believer in the idea that relationships between individuals can meaningfully shape the relationship between the countries they lead.
Traditionally, summits are scheduled only after months, or even years, of careful preparation, and the potential for surprise is kept to a minimum. But Trump has turned this sequence around. He prefers free-flowing sessions, even if they are at risk of ending in recrimination and no agreement.
A summit that ends without a detailed written accord may initially seem successful, but with the passage of time proves to be anything but. Both the Singapore summit with Kim Jong-un and the Helsinki summit with Vladimir Putin fall under this category.
The absence of any authoritative, mutually agreed record of what was said and agreed to is a recipe for future friction between the parties and mistrust among those not present.
There is a danger in expecting too much from summits, especially in the absence of sufficient preparation or follow-up. In such cases, summits merely increase the odds that diplomacy will fail, in the process contributing to geopolitical instability and uncertainty rather than mitigating it.
The selected pieces do not necessarily reflect the views of Javier Solana and ESADEgeo. The summaries above may include word-for-word excerpts from their respective pieces. 
Related posts: